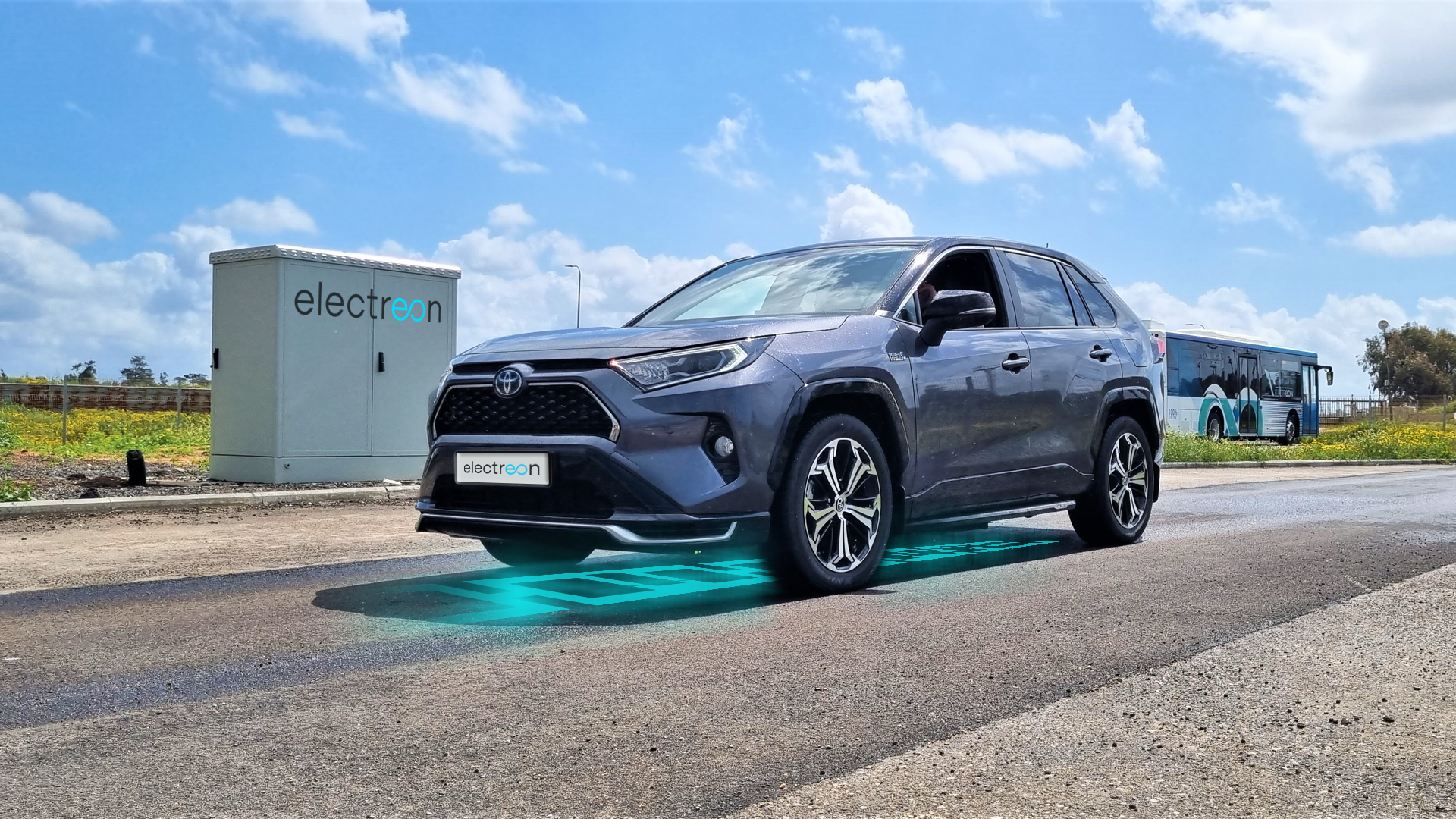 Electreon (TASE: ELWS), has come to an agreement to jointly develop an advanced wireless charging technology built on Electreon's technology and knowledge with TOYOTA MOTOR CORPORATION (NYSE: TM) and DENSO CORPORATION (TSE: 6902). The agreement follows a successful comprehensive technology evaluation conducted at Electreon's headquarters in Beit Yanai, Israel where technical teams from TOYOTA and DENSO participated. A demonstration of the RAV4-PHEV charging on the wireless road was held at the conclusion of the evaluation.

The parties intend to promote technical development for the adoption of wireless charging technology through the following joint activities: co-development of an aftermarket wireless kit for current EVs to utilize wireless charging technology today; integration of the wireless technology into new cars released to the market; collaboration to shape the standardization of wireless EV charging; promotion of a joint pilot project in Japan, the U.S. or the EU, including commercial proof of business.

To achieve a carbon-neutral society, TOYOTA will provide solutions and options to as many customers around the world as possible. TOYOTA has hopes for dynamic wireless charging technology will serve as one of the solutions that will solve the issues related to electrified vehicles. It may not only eliminate the hassle of charging practice but also can help to reduce the battery size required in an EV or extend relative driving range. This technology may also help to distribute power demand more evenly, reducing the load on the grid and making it easier to incorporate renewable energy sources.
DENSO is committed to achieving a carbon-neutral society by striving toward zero CO2 emissions in manufacturing, reducing emissions from mobility products by contributing to the electrification of cars, and achieving zero CO2 emissions in everyday energy use. As a tier 1 manufacturer of automotive components with a global presence, DENSO places great importance on utilizing cutting-edge technology to provide solutions. Being greatly impressed to discover the extent of Electreon's innovation and technology maturity, DENSO recognizes that partnering with Electreon aligns perfectly with its vision of creating a more efficient and sustainable future. The company eagerly anticipates combining its expertise with Electreon's innovative technology to take wireless charging to the next level.
"We are honored to partner with TOYOTA and DENSO — two of the leading and most respected companies in the global automotive industry, to provide an overall game-changing solution with Electreon's technology," said Oren Ezer, CEO and Co-founder of Electreon. "This partnership will make wireless charging accessible to a diverse and wide range of drivers and will demonstrate the many benefits of wireless charging as a cost-effective clean solution for charging EVs as well as a catalyst in reducing EVs' carbon footprint."
Within the next few months, the Parties will execute a detailed joint development agreement for all the joint activities mentioned above.
This joint development is expected to revolutionize the automotive industry by providing a smart and efficient way to charge EVs. The collaboration between Electreon, TOYOTA, and DENSO is a testament to their commitment to advancing technology and providing innovative solutions to their customers.

For more information, please contact:

About TOYOTA
TOYOTA works to develop and manufacture innovative, safe, environmentally-friendly and high-quality products and services that create happiness by providing mobility for all. TOYOTA believes that true achievement comes from supporting its customers, partners, employees, and the communities in which the company operates. Since its founding over 80 years ago in 1937, TOYOTA has applied its Guiding Principles in pursuit of a safer, greener and more inclusive society. Today, as the company transforms into a mobility company developing connected, automated, shared and electrified technologies, TOYOTA also remains true to its Guiding Principles and many of the United Nations' Sustainable Development Goals to help realize an ever-better world, where everyone is free to move.
About DENSO
DENSO is a $45.1 billion global automotive components manufacturer (Tier 1) company that develops advanced technology and components for nearly every vehicle make and model on the road today. With manufacturing at its core, DENSO invests in its 200 facilities to produce thermal, powertrain, mobility, electrification, & electronic systems, to create jobs that directly change how the world moves. The company's 168,000+ employees are paving the way to a mobility future that improves lives, eliminates traffic accidents, and preserves the environment. Globally headquartered in Kariya, Japan, DENSO spent 9.0 percent of its global consolidated sales on research and development in the fiscal year ending March 31, 2022. For more information about global DENSO, visit DENSO global.

About Electreon
Electreon is the leading developer and provider of wireless charging solutions for electric vehicles (EVs), providing end-to-end charging infrastructure and services, to meet the needs and efficiency demands of shared, public, and commercial fleet operators and consumers. The company's proprietary inductive technology dynamically (while in motion) and statically (while stopped) charges EVs quickly and safely, eliminating range anxiety, lowering total costs of EV ownership, and reducing battery capacity needs-making it one of the most environmentally sustainable, scalable, and compelling charging solutions available in the market today. Electreon collaborates with cities and fleet operators on a "sale" business model, and on a Charging as a Service (CaaS) business model, that enables cost-effective electrification of public, commercial, and autonomous fleets for smooth and continuous operation. For more information, visit electreon.com.

Media Contact:
On behalf of Electreon:
Keren Alleson Gerberg
keren.a@electreon.com